5. 2. 2023
We have but one planet. We farm it and make use of its resources, and our goal is to preserve it for future generations. Without fertile soil, sufficient clean water, and a healthy environment, we couldn't grow crops in fields, raise livestock in stables, or produce food. A healthy forest gives us wood for our forestry and timbering activities, and we need additional materials for our chemicals industry and other domains. Responsibility should come naturally to everyone, but we know that isn't the case everywhere in the world. That's why each day we remind ourselves that it's in everyone's best interests to behave responsibly to the environment.
We take our commitment not only to the planet but also to the Czech Republic, our employees, and our business seriously. Therefore, everything we do must be sustainable in both environmental and economic terms.
We invest in the ecology of our operations
Behaving responsibly to the environment always begins with the main manufacturing operations of any business. We know that no industry is entirely free of negative impacts on the environment, so we always strive to make ours as small as possible. In 2021, we invested more than CZK 600 million in the ecology of our operations.
Lower emissions from transportation
Our products help reduce the impact of passenger and cargo transportation on the environment. Thanks to the production of AdBlue, we contribute to the minimization of emissions from internal combustion engines. As an important producer of both basic types of liquid biofuels for motor vehicles, we deliver comprehensive solutions for meeting EU legislation on the reduction of CO2 in transportation.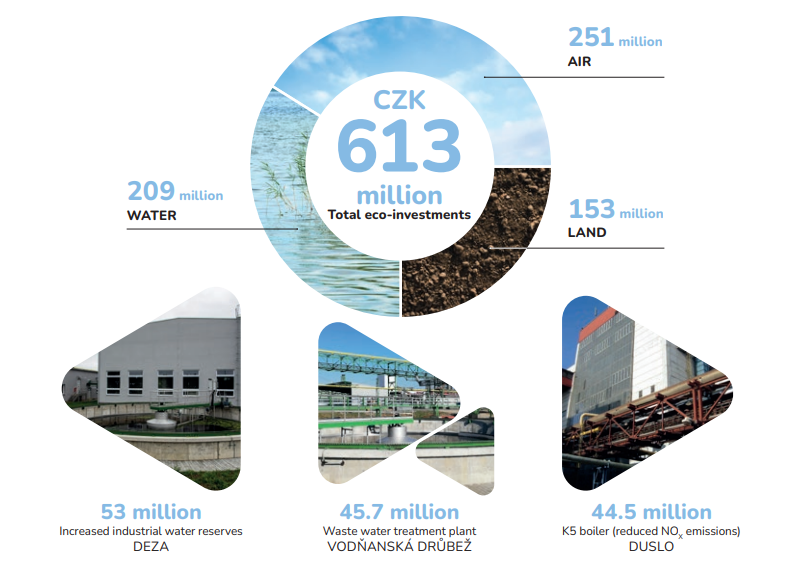 AGROFERT CSR report 2021